TAYLURR.
i pinch.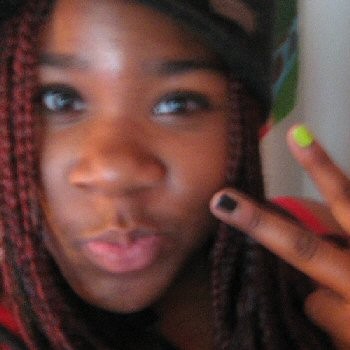 About Me
Hullo, I'm Taylor.
I was born on October 24, 1991.
So that make me sixteen now.
I'm a junior and representing c/o '09.
I love softball.
I'm really chill & laid back.
Sometimes I act stupid [but that just me].
Me + iPod = Never-Ending Love.
I'm a nice person.
I'm a chill person.
I love scary movies [especially gory ones :3].
I love hanging with my peeps (when I can).
Pharrell Williams & Lupe fiasco are my male idols.
Gwen Stefani is my female idol [love her].
I'm always myself [neva try n act someone I'm not].
I love to text [there's no better way to communicate].
I'm currently addicted to sweet tea :3.
I'm sometimes on aim [mobile or computer] so give me a holla!
| | |
| --- | --- |
| Name | Taylor T. |
| Gender | Female |
| Age | 16 |
| Location | Virginia Beach, VA |
| Ethnicity | Black / African |
| Interested in | Men |
| Status | Married |
| | |
| --- | --- |
| Interests | pharrell williams, music, literature, movies, generally media, dramas, the tellie |
| Music | everything |
| Movies | i've seen alot of movies |
| TV | tv in general is amazing |
| Books | i've read alot of books |
| Quotes | Friends Quotes "You're a loser" - Roselyn "Look at dis trifflin' ho" - Stefan My Qoutes "Are snicker doodles made of snickers?" Movie/TV Quotes "Would you like your muffin buttered?" "Homie don't play that!" Life Quotes "A friend is one who knows us, but loves us anyway." - Fr. Jerome Cummings "Life is nothing without friendship." - Marcus T. Cicero "Music is the only thing in this world, with the exception of sneezing and looking at the sunset, that takes you to a place that's above the mundane. Everything else is just bullshit." - Stephan Jenkins |
Statistics
Web Skills
HTML, CSS, Paint Shop Pro, Windows